In case you haven't been counting down the days, just a reminder that the school will be closed for Spring Break until Monday, April 1st.  This will be a full day, and is not an April Fool's Day joke 😉
Monday, April 1st – School reopens after Spring Break.
Friday, April 5th – Class photo's/Whole school photo.
Wednesday, April 10th – PAC Meeting.
Thursday, April 11th – 3 hour early dismissal. P/T interviews.  Buses will run on the same schedule, just 3 hours earlier.
Friday, April 12th – Non Instructional Day – school is not in session.
Friday, April 19th – Good Friday – School is not in session.
Monday, April 22nd – Easter Monday – School is not in session.
Have a safe and restful Spring Break….see you in April!
Community involvement in the education system is key to our success as a progressive and collaborative learning community. We want to be sure we are communicating with our parents and community in the best way possible.
Complete this survey by Monday, March 18 for your chance to win one of four $25 gift cards to Indigo books. Click on the image or the link below to start the survey.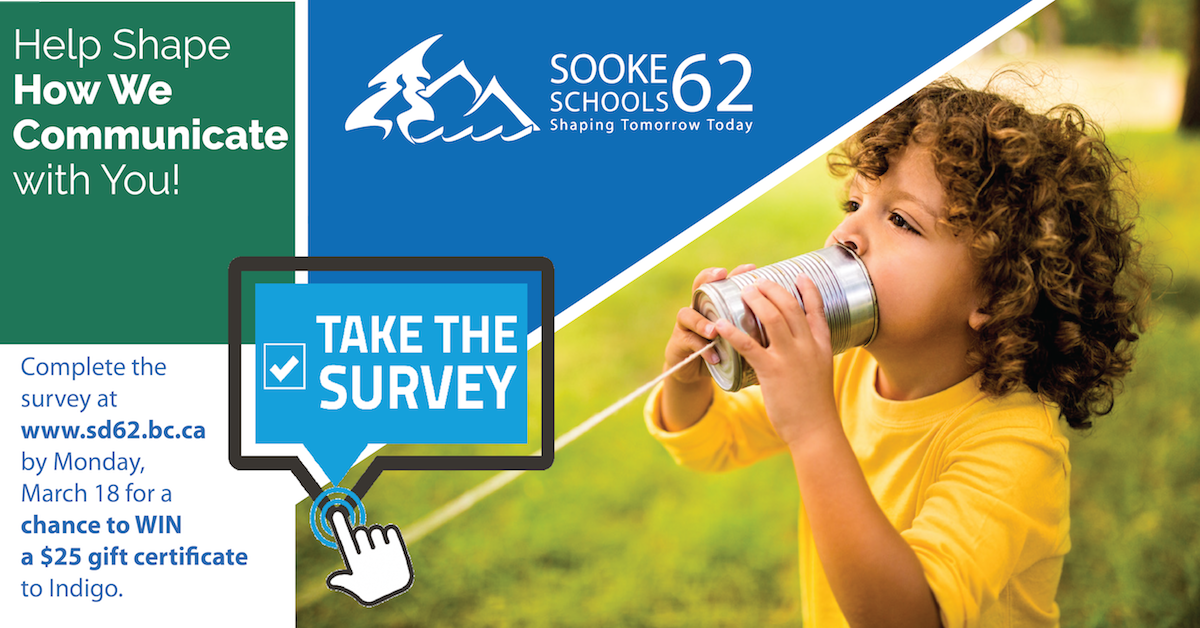 https://www.surveymonkey.com/r/SD62communications
Parents please see this excellent resource from Safer School Together, ensuring safe and caring school communities.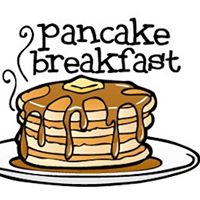 Dear Parents and Guardians,
 Another great John Stubbs tradition is fast approaching – Pancake Day!  On Thursday, March 7, PAC volunteers will be serving up pancakes and sausages to the entire school.  We need many volunteers and a few electric griddles to make this day a huge success. If you can spare some time or a griddle on March 7, please sign up here:  http://signup.com/go/YgGXrLu
 Please remember to send your child with a plate and cutlery on March 7 so that they can enjoy this yummy treat! 
 ~John Stubbs PAC

Elementary School:
Date: Wednesday, March 13th, 2019
Time: 1:15pm & 6pm **please note these times will not change
Location: John Stubbs Gymnasium
Classes performing from Mme Tremblay: Mme Cookson, Mme Mackenzie, Mme Marshall, Mme Bouchard, Mme McLeod, Mme Smyth/O'Sullivan, Elementary Choir (gr. 1-5)
Classes performing from M. Tim: Mme Dorran, Mme Jenkins, Mme Desmarais-Boily, Mme Clarke, Mme Goreas.
*** Please note, all student classes listed above are performing at both concerts to give parents a chance to attend either if they are not available in the evening ***
​
Concert Dress (Elementary):
Wear "fancier clothes" as they will be performing in front of a large audience and we want them to feel proud of how they perform and look on this day.
Avoid the sweatpants/shorts and t-shirts look on stage please.
The suggested outfit: Nice jeans/pants and a dress shirt or sweater would be fine or a skirt/dress if your child is happier in these kinds of clothes.
Avoid shirts with logos: The colour of the shirt is not important – any colour is fine!​
Use things you already have: There is no expectation to buy any items unless you choose to or if they've outgrown their fancy clothes since the last time they wore them
Middle School:
Date: Thursday, March 14th, 2019
Time: 1:15pm & 6pm ** please note these times will not change
Location: John Stubbs Gymnasium
Concert Dress (Middle)
Nice pants (slacks or corduroy) or skirts/dresses and a black top/dress shirt.
No blue jeans or shorts please.  Please try to have a collared top as each band member will be given a tie to wear for the concert.
Please Note:
Concerts will be no longer then 60min.
All music students have worked very hard to prepare a concert for you, to reduce distraction to the performers and in order to give them a larger audience: please stay until the very end of the concert.
In order for all members of the ensemble to depart at a reasonable hour, it is vital that all band students help with the clean-up.
Upcoming dates…..
Wednesday, February 27th – Pink shirt day
Wednesday, March 6th – PAC Meeting in Home Ec Room
Thursday, March 7th – Pancake breakfast
Wednesday, March 13th – Elementary Spring Concert 1:15pm & 6pm
Thursday, March 14th – Middle School Band Concert 1:15pm & 6pm
Friday, March 15th – Last Day of school before Spring Break
Monday, March 18th – Friday, March 29th – Spring Break, school is not in session.
Monday, April 1st – First day back after Spring Break.
Friday, April 5th – Whole School/Team/Class photos
Thursday, April 11th – 3 hr early dismissal.  Buses will run on the same schedule, just 3 hours earlier
Friday, April 12th – Non Instructional Day, school is not in session
Friday, April 19th – Good Friday, school is not in session
Monday, April 22nd – Easter Monday, school is not in session
Friday, April 26th – Terry Fox Run 11:30-12:10
---
Island Health – Information for Students and Families 
With the outbreak of measles in Vancouver, BC, families may be wondering what steps they can take to protect themselves from measles. Vaccination is the best method of protection. All school-age children and adults born in 1970 or later should have 2 doses of MMR vaccine for full protection. Most people born before 1970 are immune to measles because of past exposure or disease.
Please take some time to check your vaccination records to see if you or your children need additional vaccination. Vaccination is available from physicians, pharmacists (for adults and children over 5 years), and public health units (for children). Call ahead to your healthcare provider to ensure that MMR is available at your appointment.
If you have any questions or would like more information about measles and MMR vaccine, please visit healthlinkbc.ca and immunizebc.ca.
---
School District 62 Appreciation Night is at the Royals Hockey Game on Friday, March 1st 
We are selling tickets at the John Stubbs office if you wish to purchase tickets for this great event. $1.50 from every ticket goes back to John Stubbs School.  Tickets are $15 each.
SD62 is giving a free Pizza lunch for the whole school to the school who sells the most game tickets.
---
Peter and the Starcatcher Sets Sail at Royal Bay Secondary
Peter and the Starcatcher is a whimsical tale that tells the story of how an orphaned boy becomes Peter Pan. This Tony Award winning play (that contains lots of music) promises to be an adventure for the young, young at heart, and those determined to never grow up.
Wednesday March 6, 2019 at 7:00pm
Thursday March 7, 2019 at 7:00pm
Friday March 8, 2019 at 7:00pm
Saturday March 9, 2019 at 2:00pm
Tickets:
$12.50 for adults
$10.50 for students/seniors
$5.00 for SD62 students and Theatre Department Alumni
 Tickets are available at the Royal Bay School Office, 250-474-2377
Due to icy and snowy conditions on many of the roads in our communities, all Sooke School District schools and offices will be CLOSED again today, Wednesday, February 13th.
Superintendent Scott Stinson has just announced that tomorrow, Tuesday February 12th, will be another SNOW DAY!! Yahoo!! Stay safe, stay warm and enjoy the day in the snow!!
A reminder to all parents and staff that they should check our App, district Twitter and Website and/or local news outlets for weather related updates tomorrow morning after 6:30am. Please also ensure that you have backup plans in place should school need to close during the day or if you are unable to get to school to collect your child at the end of the day. The district will keep families up to date throughout the day, please keep checking your emails, the district Twitter and Website as well as our school's app and website.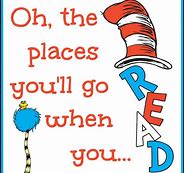 This is a reminder from the library to please return all Read-a-Thon reading logs, pledge forms and donations collected by Wednesday Feb. 6th. Donations can also be made on-line through the hot lunches system until Midnight on Wednesday www.johnstubbs.hotlunches.net. (Please note the extension of previous Feb. 1st deadline.)
Thank you for your support,
 EJSMS Library
As that arctic weather moves towards Victoria, we can expect very cold weather throughout this week. Please ensure your child/children come(s) to school dressed warmly with hats, scarves and coats and ready to be outside for recess and lunch breaks. Children will be expected to be outside.
For information on how to find out about school closures due to inclement weather, see the SD62 website: http://www.sd62.bc.ca/parents/weather-related-closures-cancellations/