We hope you enjoy a clip from our Gratitude Ceremony yesterday celebrating our new Nature Playground.
Sept 10 message to families
Bonjour John Stubbs Community (In-school and Remote Learning)
Our first day has gone very smoothly! Thank you to EVERYONE who used the new 'Kiss and drop' and who parked further from the building so that our younger students could park closer. Thank you to our PAC members Melissa and Alison for helping parents at the kiss and drop.  What our staff saw today was our family community pulling together to keep everyone safe.  Un grand MERCI!
The parent handbook has been updated. It will continue to be updates as we see what needs to be communicated more clearly, or if we have to add some details to clarify. Updates will be highlighted to that you can find them easily. This is a live document, so we will edit it as we go along in the school year. Remember to check it every week!
Here is the LINK to the handbook. Save it for future use!
Here is what has been added this week:
REMOTE LEARNERS:  During the month of September, you will continue to get messages for your child's official teacher. This is so that you can follow what is happening should you wish to change your mind.
Kiss and Drop. – STAY IN THE LINE until the exit so that there is less chance of accidents.
Staggered Departure Times (end of day) 
To limit the number of people in our hallways, as well as on our sidewalks and playgrounds, we have a plan for the end of day pick up.
The departure group schedule are as follows:
2:30 = Siblings Grade 3 to 8 siblings pick up younger siblings (including KG) at their classroom to go to the bus line up or leave the property to meet their ride home parked in your pre-arranged place.
Grade 2 to Kindergarten siblings Children leave with the rest of their class at the time below.
2:35 = KG and Gr 2
2:40 = Gr 1, 4, and 6
2:45 = Gr 3 and 7
2:50 = Gr 5 and 8
END OF THE DAY PROCEDURES
Meeting Zones (Zones de rendez-vous)
Map of Meeting Zones
These are where children go when they arrive at school in the morning.
These are also where they go at the end of the day to leave school.
Please know that the classes on the field may be moved to other locations as we adapt to the weather.
Kindergarten to grade 2
Caregivers are able to enter the school property to where their child is lined up. Please leave promptly, please don't linger, once you have your child(ren). We ask that you teach them to be independent and learn to walk to their meeting spot by themselves in the morning.
At the end of the day, you can enter the property so that the teacher knows you are there to hand the child to. Then leave promptly.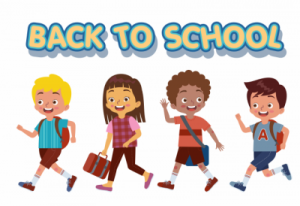 More information on school start up will be sent out to
all of our parents via email shortly.

Thank you for your patience as we prepare for this unusual September start up.
Please click this LINK view the message from Mme Szalipszki.
Please note that our school office will re-open on Tuesday September 1st. This allows our office team to do some important learning together on Monday August 31st. 
Thank you to all the families that participated in the parade yesterday, it was wonderful to see everyone's smiling faces.
Hello John Stubbs Families!
Bus registration opened this morning, but an error was discovered in the background so it has been taken off line, hopefully it will be operational by tomorrow.
Bus registration this year can be accessed through "School Bus Transportation" link on the SD62 website.
https://www.sd62.bc.ca/our-district/transportation
You will need to enter your child's Pupil # /Student # which is the 6 digit number.  This is different from their 9 digit Provincial Education Number (PEN).  You can find your child's student/pupil # on their report card.  If you do not have a report card handy, you can log onto the MyED BC Family portal to find this out.  Please consult our school's website for more details about how to do this, or the SD62 website.
http://johnstubbs.web.sd62.bc.ca/parents/myed-family-portal/
PLEASE NOTE: If you successfully registered today and received a confirmation email you do not need to re-register tomorrow. Transportation will be in contact with you directly if there is information missing on your registration.

We miss all of our John Stubbs community!  We would love to see you on Thursday, May 7 between 1:30-2:30 p.m.  The John Stubbs staff will be lining Zealous Crescent in front of the school fields and we would love to see you.  Drive by, honk and wave!
For the best flow of traffic, we ask that onnce you enter Belmont Park, turn right on Egerton Avenue and then left on Zealous Crescent.  You won't be able to miss us!  We hope to see you next Thursday.
Please keep in mind we are keeping two meters apart from each other and we kindly ask that you do the same.