Week at a Glance:
Wed, Oct 16
Pizza for Middle School $3/slice
Middle School X Country – JDF
Thurs, Oct 17
BC Shakeout Drill 10:10
Girls Handball Game (Colwood and John Stubbs @ Sangster Elementary)
Boys Handball Game (Happy Valley and John Stubbs @ John Stubbs)
Fri, Oct 18
*Photo Order Deadline*
Hot Lunch – Panago
Mon, Oct 21
DEAR – Drop Everything And Read
Boys Handball Game (John Stubbs and Ruth King @ Sangster Elementary)
Tues, Oct 22
Pop for Peeps for Elementary $1/bag
Girls Handball Game (Millstream and John Stubbs @ Colwood Elementary)
Wed, Oct 23
Pizza for Middle School $3/slice
---

The John Stubbs School community would like to recognize the contribution of all military families.
We will again be preparing a slideshow of photographs to be shown at our Remembrance Day assemblies on November 8. If you would like to contribute photographs of your family members who were or are currently serving, please email the pictures to Mellissa Ryan at mryan@sd62.bc.ca by Friday, November 1.
Please include the name of the person in the photograph, the John Stubbs student name, and their relation to the person in the photo. We look forward to recognizing your service.
---

Photo retakes will take place on November 5th
At our Tour de Rock assembly on Wednesday Mayor of Colwood, Rob Martin had his head shaved and Sheryl Williamson, sister of one of the Tour de Rock riders had 12 inches cut off.
Through all of our Tour de Rock fundraising John Stubbs raised a grand total of $2730.10!!
Upcoming Dates:
Wed, Oct 2
Pizza for Middle School $3/slice
Tour de Rock 1:05 pm
Elementary X Country
Thurs, Oct 3
Middle School Cross Country Race at Beaver Lake
Fri, Oct 4
Mon, Oct 7
Tues, Oct 8
---
School Updates:
Tape Mr. Button to the Wall was a huge success!
The students as well as Mr. Button had a great time, thank you for helping us raise $483 for Tour de Rock!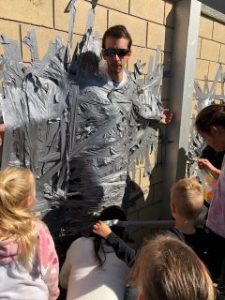 Lost and Found is overflowing after just one month of school! Please have your students check the elementary and middle school foyer lost and found racks.
Tour de Rock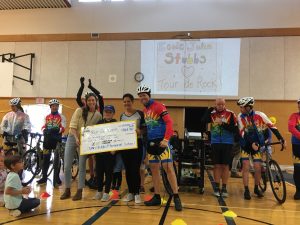 Tour de Rock 2019
Tour de Rock is a fundraiser put on by first responders to raise money for pediatric cancer research. The money raised is also used to send kids to Camp Goodtimes. This camp is a place where kids battling cancer and their siblings go to have fun!
The tour will ride their bikes from Port Hardy to Victoria, visiting as many schools as possible. Tour de Rock is coming to John Stubbs on October 2nd, and John Stubbs has a fundraising goal to send three kids to camp! Here are some of the challenges happening to reach our goal:
Tape Mr. Button to the Wall!
On October 1st, students can bring a loonie or a toonie to tape Mr. Button to the wall!
One meter of tape: 1.00$
Three meters of tape: 2.00$
Mme Millar and Mme Sarah's Bake Sale!
Wednesday, September 25th there will be a variety of treats made by Mme Millar and Mme Sarah's class. The treats will vary from 1.00$-4.00$ sold in the Middle School foyer at recess.
Other Ways to Donate:
Visit the URL below to donate to John Stubbs Team!
http://convio.cancer.ca/goto/johnstubbselementary
Thank you for your support!
Elementary Cross Country will have a sign up meeting for any students interested this Friday at first recess in the elementary gym.  Cross Country is open to students in Grades 2-5. Students must

be ready to make a commitment to come to 2 morning recess practices a week and the after school races at JDF on Sept. 25 and Oct. 2.

OPEN HOUSE (Meet the Teacher): September 26, 6:00-6:30 classroom time, 6:30-6:45 everyone meets in the middle school gym to see all staff.
Photo Day: September 26th.
Dr. Paul Mohapel: Wednesday September 18th at 6:00-7:00 in the Middle School gym. To Talk about cell phone
Get the app:
The school App is a great way for you to always be up to date on messages being sent home.  It is directly linked to our website, so being connected through the app means you don't have to remember to visit our  webpage. You can follow your teacher Use this link: https://johnstubbs.appazur.com Or use this QR CODE: