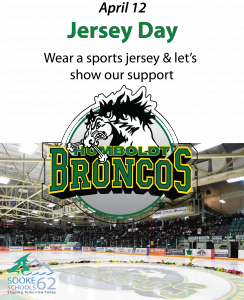 Jersey Day, Thursday April 12th
As you may have heard through the media, there is an initiative being organized by a group of BC mothers to support the families and friends of the Humboldt Broncos by wearing a  jersey on April 12th.
We encourage staff and students to wear their sports jerseys, or the colours green and gold, on April 12th to show support for those who have lost loved ones, family members, friends, and teammates. 
Canadians and beyond are grieving the tragic accident that took the lives of 15 Humboldt Broncos Hockey players, in Saskatchewan on April 6. Our District is deeply saddened by this horrible accident, and our thoughts go out to everyone affected by this tragedy.
To learn more about #jerseysforhumboldt go to the Jersey Day Facebook page.