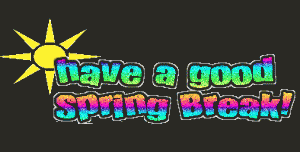 Thursday, March 15th – WE DAY – Middle School Students- Motivational speakers talking about how you can make a difference in your local and global communities.
Friday, March 16th – Last Day of School before Spring Break.
Monday, March 19 – Monday, April 2nd – Spring Break – School is not in session.
Tuesday, April 3rd – First day back after spring break.  School is in session for a full day.
Friday, April 6th – Whole School Group Photo Day.  If you would like to purchase a Whole School Group Photo as a memento, please have your child pick up a the form from the office.
*** Don't forget to check our "Communities" page under the "Parent" (top tab) for information on upcoming events in our community.