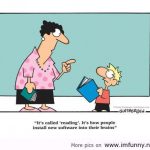 École John Stubbs is celebrating National Literacy week all next week with our Read-a-Thon. Information will be sent home with all students this week. Kick off assemblies will be held Friday, Jan. 26th. We encourage all students to start recording the number of minutes they have read in their reading logs.  Special guests will be visiting classes and various literacy activities will be taking place all next week.
There will be no library book exchanges next week. Instead, students will visit the library and have a chance to choose a gently used, donated, book from the book swap.
Attached is the information that was sent home in a downloadable format.
Important Dates:
Thursday, January 18th – Kindergarten Information Night at 6pm in the Library Learning Commons.
Tuesday, January 23rd – Late French Immersion Information Night at 6:30pm in the Library Learning Commons.
Friday, January 26th – "Dress as your favourite book character" day.  Students will have milk and cookies with their class.  Please send a cookie or two and a non-breakable cup with your child on January 26th.  Thank you to our PAC for providing milk for all students.
Saturday, January 27th – National Family Literacy Day with many events taking place throughout the community.  Please see the attached information sheet for events in the Westshore or visit https://southislandliteracy.com/ to find events in the surrounding areas.
Monday, January 29th – Registration opens at 8am for Kindergarten/Late French/French Immersion for the 2018/2019 school year. Registration is done on line. http://registration.sd62.bc.ca/
Wednesday, January 31st – Ready, Set, Learn in the Elementary Gym 6pm-7pm