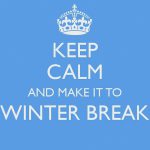 Play: A Charlie Brown Christmas – at Belmont Secondary. Advanced tickets can be purchased at the front office at Belmont, or online: https://sd62.schoolcashonline.com/Fee/Index. Tickets will also be available at the door. $10 for Adults; $5 for students.
Concert: Parents and Guardians, we would like to invite you to our upcoming concerts. The Elementary Concerts will be on Wednesday December 20th at 1:30 and 6:00 in the Middle School Gym.  The classes that will be performing will be: Mme Mardi, M. Franck, Helene, Mme Marshall, M. Button, Mme Cookson, Mme Le, Mme Crombie, Mme Karen, Mlle Watts, Mme Manon, and the elementary Choir.
Please consider bringing a cash or food donation for the Goldstream Food Bank.
The Middle School Band Concert will be on Thursday December 21st at 6:00. Admission is also by donation.
Christmas Tree Sale: Are you looking for a place to get a great Christmas tree? Would you like to support a district program? Look no further! Head to Westshore Center for Learning on Old Island Highway. Westshore students are selling trees from December 1st-17th.
10,000 Tonight: Students from Belmont, Royal Bay, and Edward Milne will be going out into their communities to collect food donations for the Goldstream and Sooke Food Banks. Their collective goal is to gather AT LEAST 30,000 donations – either food or cash. Drivers are needed to take students on the routes, so if you're able to spend an hour or so on a route -or two- head over to your local high school at 5:00 or later. Bring your driver's license and insurance papers to sign in. Welcome these high schoolers if they come to your door. It's really great to see them out in the community, working together towards a common goal. Thanks for any help you can give to help support our community.
Christmas Hamper Drive: Deadline December 22nd:  From December 11th until December 22nd we will be collecting food, hamper items, and/or cash donations.   Admission to the Elementary concerts and Middle School Band concert on December 20th and 21st is by donation. You can also bring donations to your child's classroom. The Goldstream Food Bank will pick up your much needed and very much appreciated donations on December 22 and will help build the hampers for families in need.
Report Cards and Foundation Skills Assessments (FSA's): Elementary students received their report cards already and grade 4 students received their FSA results either with their report card, or on December 1st. Middle School students will be receiving their report cards on Friday December 15th. Grade 7 students will receive their FSA results with their report cards. Please remember to sign your child's report card envelope and return it to his/her teacher for the next term's report card.
Upcoming Dates:
Thursday, December 14th – PAC Hot Chocolate and Cookies in the middle school foyer.  Please have your child bring their own mug.
Friday December 15th: Middle School Report Cards to home.
– PAC Meeting 1:30pm – Learning Commons
Tuesday December 19th: Return signed report card envelopes
Wednesday December 20th: Elementary Concerts at 1:30 and 6:00 in Middle School Gym.
Thursday December 21st: Middle School Band Concert at 6:00 in Middle School Gym.
Friday December 22nd: Holiday Hamper pick up. Last Day of School before Winter Break.
Monday January 8th: Schools reopen