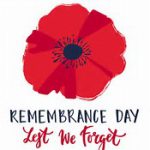 Dates to Remember:
Wednesday, November 8th – PAC Meeting at 6:30pm in the Library.
Friday, November 10th – Remembrance Day Assembly.  Kindergarten – Elementary Gym at 9:15am.  Grades 1-8 – Middle School Gym at 10:50am.
Monday, November 13th – School is not in session as we observe Remembrance Day.
Thursday, November 23rd – Early Dismissal for Parent Teacher interviews.  School will be in session on that day until 11:50am, and buses will run on the same schedule, but 3 hours earlier.
Friday, November 24th is a non-instructional day for Parent Teacher interviews.
PARENT-TEACHER INTERVIEWS:
Please note that not all teachers will be booking their parent-teacher interviews through our online website.  If you have already heard from your child's teacher to set up a Parent-Teacher interview directly through them, you do not need to book a time online.
If you have not heard from your child's teacher then please register your student for Parent-Teacher interviews through the link provided below.  Registration will open on Friday, November 10th at 9:00 a.m. and close on Wednesday, November 22nd at noon. 
http://johnstubbs.schoolappointments.com
Christmas Shopping Day: Parents of students in K-2 will be receiving a letter home next week regarding the school Christmas Shopping Day.  Donations for this event will take place at the end of the month if you wanted to put aside new and gently used family appropriate gifts.