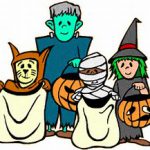 Children can wear their costumes to school on Halloween, but with the following guidelines:
-Please note that costumes should be school appropriate and masks and weapons should be left at home.
-Please check with your child's teacher for details about any Hallowe'en Activities happening in classrooms.  If you are sending treats for your child's class please know that we are an ALLERGY AWARE school and district.  Please DO NOT send any treats that contain peanuts or other nuts.
-Be aware that children will be in their costumes all day, so they should still be able to go outside for recess. If their costume is too fragile to wear all day and in the playground, please consider sending them in a different, more simple costume that can handle time outside in the playground and in the rain. Please also consider that if they have PE that day, they should aware a very simple costume that they can play in.