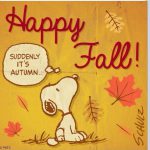 Looks like fall has finally hit!  Just a reminder that the children will be outside playing in most types of weather, as long as it is safe.  When it's raining or snowing, please send your child to school in a weather-proof coat and shoes or boots.
-The Scholastic Book Fair (English) has been taking place all this week and will be running until tomorrow, October 19th.  Reminder that the book fair will be open tomorrow before school, at lunch, and at the beginning of the dance.
-The PAC Halloween Dance takes place tomorrow, Thursday, October 19th from 5:30 p.m. to 7:30 p.m.  Snacks will be available to purchase at the Canteen.  École John Stubbs students FREE. Adults $3, Children $2, Family's $8.
-The Lifetouch picture order deadline has been postponed until Thursday, October 25th.  Please have your orders in by that date.  Retakes will take place on Tuesday, November 7th.
-Friday, October 20th is a Non Instructional Day, school is not in session.